Fast, Effective Pain Relief
Our dry needling therapists, specially trained and licensed by the State of Georgia, can quickly reduce pain, increase muscle strength and range of motion. Many of our clients enthusiastically incorporate dry needling into their physical therapy treatment plan.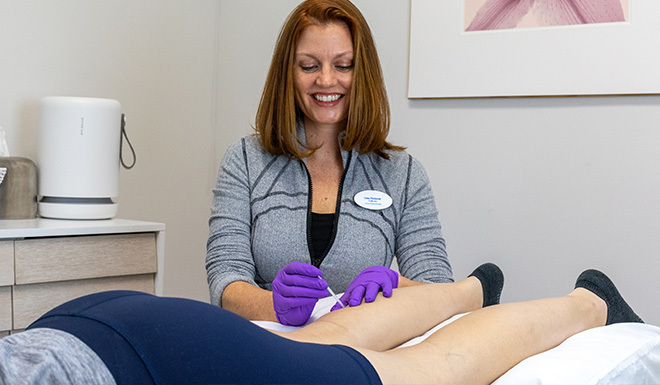 Effectively Treating Trigger Points
Dry needling is a common approach in physical therapy. Its benefits include pain reduction, increased strength and range of motion, and general muscle function restoration. The process involves inserting a thin solid needle (the width of two human hairs and not the kind of needle used for injections or blood draws) into trigger points found in muscles. This creates a small muscle twitch or dull ache (that quickly dissipates). This results in the release of the muscle which provides relief in the form of pain reduction, improved range of motion and/or increased strength. Electrical stimulation can be added to intensify and accelerate the body's response to the process.
During your initial evaluation if your therapist believes dry needling will benefit you, they will discuss it with you and obtain your consent. Not everyone likes needles, so dry needling isn't the best treatment option for some clients. In the State of Georgia it is required by law to have a physician prescription for physical therapy to perform dry needling as part of your care. If we believe you would benefit from dry needling but you don't have a prescription, we can help you obtain one from your physician.
CEO and Founder
Physical Therapist
Board Certified Orthopaedic Specialist
STOTT PILATES® Rehab Instructor Trainer
ZEN•GA® Qualified Equipment Instructor
Dry Needling Licensed
It is a natural assumption that because the same needles are used for both acupuncture and dry needling that they are equivalent or the same treatment with different names. However, dry needling and acupuncture are two separate treatments, with distinct approaches and purposes. Dry needling is when a trigger point in a muscle is identified…
Read More