Progressive treatments for a better you
Your injury or condition may be the same as someone else, but your body, needs and goals are all unique—your treatment approach should be too. Physical Therapy at Inspire Health customizes an approach to fit your needs to get you back in action and living fully.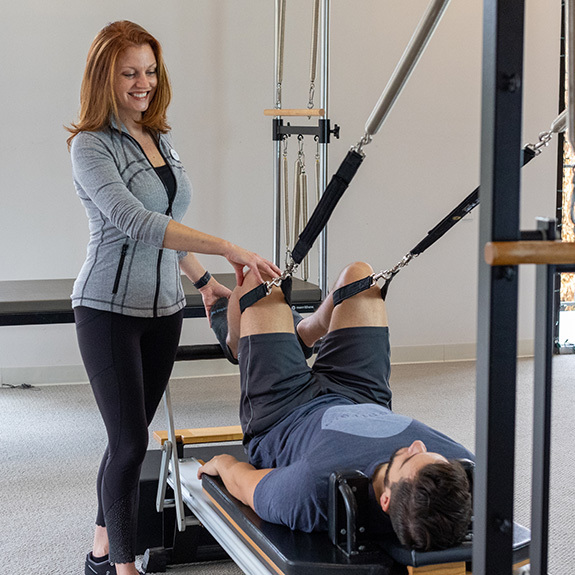 Personalized PT
Optimize your body's healing capabilities to possibly avoid surgery and medication? Do you want a consultative approach with someone who will educate you and empower you? Inspire Health therapists, located in the Atlanta Buckhead area, are specialized trained experts. We provide the most integrative and progressive treatments available to address pain, injury, and other conditions.
We explore your concerns and goals in order to develop your treatment plan. Visits are spent one-on-one with your therapist and consist of techniques like hands-on manual therapy, INDIBA radio frequency treatment, dry needling, taping, STOTT PILATES ®, and therapeutic massage among other treatments. Treatments provide functional and healthy changes in your body to help you achieve a pain-free and active lifestyle.
I have been dealing with shoulder pain for some time now. I have seen medical doctors who were trying to treat symptoms. My physical therapist was able to improve my condition in just a few sessions. Couldn't recommend Inspire Health more!
– Evis B.–
CEO and Founder
Physical Therapist
Board Certified Orthopaedic Specialist
STOTT PILATES® Rehab Instructor Trainer
ZEN•GA® Qualified Equipment Instructor
Dry Needling Licensed
Physical Therapy Articles
This may be hard to hear, but your mom was right. Your posture matters. And not just for the reasons your mom may have harped on you for, it matters for your health too. Let me convince you to take notice of your posture, in particular, the upper and mid back, the region called your…
Read More
Physical therapy treatment is a bit different at Inspire Health compared to the traditional outpatient physical therapy clinic, this is probably why you decided to seek treatment with us. You may be wondering what to expect on your first visit and how to be prepared. Pre-Appointment Prior to your appointment, you will receive an email…
Read More